Enlightening Your Financial Future
"I've never had a financial planner."
"I don't have enough assets."
"I knew I had to, but I didn't want to deal with it."
"I'm afraid I might get sold something I don't understand."
"I didn't think I'd be listened to."
Cadenza Financial Planning is a fee-only, fiduciary financial planning firm.
What does that mean?
It means we don't sell insurance or investment products, don't receive commissions, and are always obligated to act in our clients' best interest.
Instead, we sell outcomes, and we do this through comprehensive planning that is customized to everyone's unique situation.
Cadenza Financial Planning was founded on three main principles.
The first was to offer access to financial planning for those who have traditionally been left out of the process for lack of investable assets.
To that end, Cadenza Financial Planning focuses on creating value as opposed to extracting value.
Finally, Cadenza Financial Planning is less concerned with "magic numbers" and chasing returns than it is with devising successful outcomes.
Most wealth and investment managers do not offer true comprehensive planning. Beyond investment advice, effective financial planning is about mapping your successful outcome.
As a fee-only fiduciary, we don't accept commissions, eliminating conflicts of interest and ensuring that you get the unbiased advice you deserve.
Your access to good financial advice should not be based upon your net worth and investable assets.
Cadenza is built upon the foundation of keeping costs down through low-cost, passive investing and freeing up your cash flow to allow you to build wealth and achieve your goals.
The digital world allows us to stay in close contact wherever you are. Online meetings make geography obsolete and grant an unprecedented level of convenience.
Cadenza wants you to be involved as little or as much as you prefer. We can be your team or your back office…or a combination of both.
30-Minute No-Cost Consultation
If you're not sure where to start, let's get to know each other risk-free.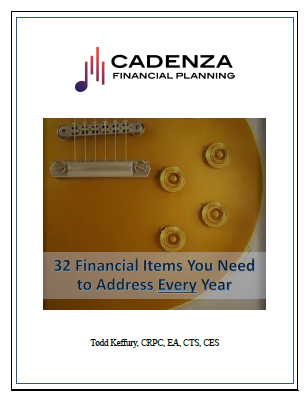 Get your copy of our whitepaper here: